What is Saunahytten - On Tour?
The sauna cabin is a mobile quality sauna with living room, toilet and outdoor shower, which creates the framework for saunagus, sauna bathing and in this connection possibly winter bathing
Ulige uger (fra uge 44 2021 til uge 12 2022)
| Tirsdag (Aalborg Sejlklub) | Onsdag (Blokhus Strand) | Torsdag (Løkken Strand) | Lørdag (Blokhus Strand) |
| --- | --- | --- | --- |
| Kl. 15.45-16.45 | Kl. 15.45-16.45 | Kl. 15.45-16.45 | Kl. 8.30-9.30 |
| Kl. 17.00-18.00 | Kl. 17.00-18.00 | Kl. 17.00-18.00 | Kl. 9.45-10.45 |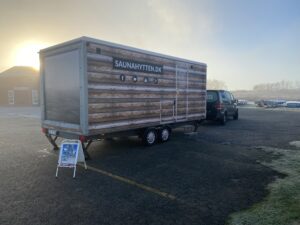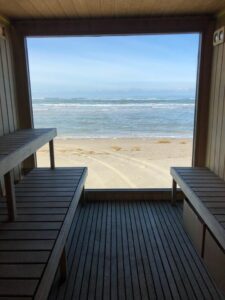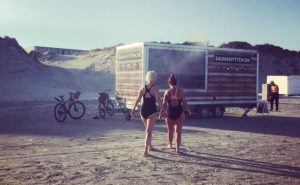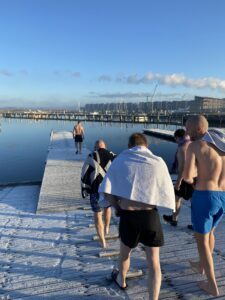 Saunahytten – On-Tour
Saunahytten -On-Tour er oplevelser og velvære i dit lokalområde. Hver anden uge kommer Saunahytten til Aalborg (tirsdag), Blokhus (onsdag og lørdag) og Løkken (torsdag).
Saunahytten holder Saunagus tirsdag, onsdag og torsdag på to tidspunkter, fra kl. 15.45-16.45 og 17.00-18.00 og lørdag kl. 8.30-9.30 og 9.45-10.45.
See more here: Download PDF
Kunne I tænke jer at undersøge, om Saunahytten – On Tour er noget for jer så kontakt Saunahytten: send mail
Saunagus 150,- pr. deltager
Information about winter baths
Increases the feeling of happiness: When you bathe in cold water, a number of neurotransmitters are released in the brain, and you can even become "high" in endorphins.

Strengthens the immune system: The cold water activates your immune system and the adrenaline level rises. It helps fight infections.

Good for the blood vessels: When your body is exposed to a cold shock, the blood vessels in the fingers, feet, arms and legs contract so that the blood flows to the internal organs. When you get out of the water, the blood vessels open up again and you get a warm feeling in the body. One can say that winter bathing is exercise for the blood vessels.

Gets better at keeping warm: You can get used to the cold, which is why winter bathers do not freeze as much when they are out in the cold weather.
See more about winter bathing
https://www.respektforvand.dk/i-vandet/vinterbadning/hvorfor-vinterbadning
Information about sauna
A trip to the sauna strengthens your mental health

The heat in the sauna lowers your blood pressure

Your immune system is strengthened, and p

auna helps you get rid of waste products

Improves blood circulation throughout the body; it can relieve symptoms from joints, muscles and other connective tissues of the body

Recovery after training is shortened - especially if you alternate between a 5-10 minute sauna and a quick trip in cold water 

Saunature expands your social life
See more about saunagus and sauna
https://www.bt.dk/sundhed/sauna-er-hot-og-godt-for-hjerne-og-hjerte
https://magasinetliv.dk/sundhed/helse/spring-ind-i-varmen-5-sunde-grunde-til-at-gaa-i-sauna
https://www.femina.dk/soendag/sundhed/motion-og-oevelser/derfor-skal-du-gaa-i-sauna-efter-traening